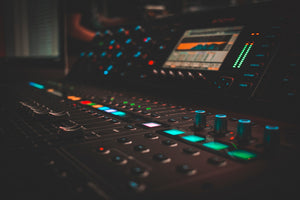 NEVER PAY FOR
MIXING AGAIN
A Custom Mixing Solution For You
Here is everything included:
FULLY CUSTOM TEMPLATE
Custom Recording + Mixing + Mastering Template using your DAW & plugins of choice made for YOUR vocals
VIDEO MIXING TUTORIAL
Custom Video Tutorial Break Down filmed just for you showing how I mixed your song using your custom template + How to use your new template to record
YOUR MASTERED SONG
You'll also get a full Mix and Master of your song for you to release immediately if you choose!
★★★★★

The template has helped me out slot as far as learning bussses and sending things to different tracks I am really digging the learning this and also the sound is on point would def recommend to any one that wants to learn mixing not only vocal tracks but instruments as well.

Jonathan Chapman
★★★★★

AMAZING!

First time ever getting a song mastered and JCruz worked with me to get the sound I wanted! Super fast and professional. I was recommended to him by a friend and I'm glad she told me. Will be using JCruz again for sure!

Matthew Herrera
★★★★★

Working with JCruz feels like a breath of fresh air. The Mix is quality, communication and reviews are fast and he is patient with me as well. To top it all off, He always has your newest mixes in an easy access file so you can listen as soon as it's finished as well as years down the road. 10 out of 10 for me.

Kurtis Hoppie
How It Works
1. After completing your purchase, fill out the mini questionnaire below 👇
2. Send me the files for a song you want me to mix for the custom tutorial and to make the template with using the WeTransfer uploader. 
Once I receive your order and all your files, Ill get started mixing
When the mix is done Ill send it to you for any revisions
Once you are happy with the final mix, I will make the tutorial video for you.
You will have your full mixed and mastered song plus your custom template and tutorial delivered to you within roughly 10 days of receiving your files.